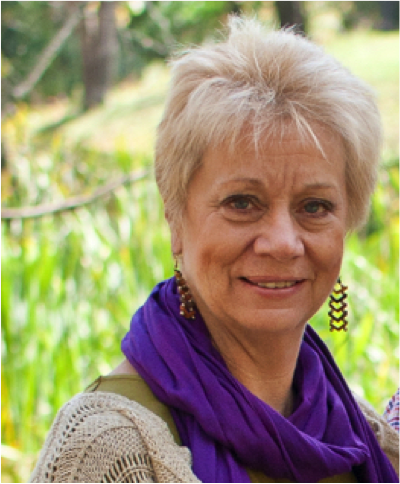 Artist Statement
---
False facts. Fake news. Alternative history. How do people deal with the contradictory, uncertain, and illogical aspects of life in a highly systematic and self-evident society?
As a sculptor and installation artist, I apply fiber and textile processes to wire and wire mesh in response to these diametric conditions. My work is often about the illusory boundaries and deceptive places in our lives—our incongruent memories, biased sense of reality, and conflicted relationship with nature and the world at large. I'm intrigued by the process of comprehension and understanding within this context.
I work with wire mesh because it has the unique ability to both reflect and filter light as well as be delicate yet strong. Wire mesh causes the vessels and sculptures I create to appear illusive and fragile even though they are not. Each piece is a veiled membrane of stainless steel, brass, or aluminum that expresses ambiguity and invites the viewer to look beyond the surface into the more intimate space within. I seek to express through my art that intersection where clarity and ambiguity touch.
Resume
---
Education and Training
Moorhead State University, Bachelor of Science in Art Education, Graphic Design emphasis, Moorhead, MN (1975)
Women's Art Institute, Saint Catherine University, Saint Paul, MN (2016)
Castlehill Master Workshop – Janet Echelman (2015)
SDA Confluence Workshop – Lanny Bergner (2011)
Split Rock Workshops – Susan Brandeis (2008), Ilse Aviks (2009) and Jiyoung Chung (2010)
Artist Retreat – Steve Aimone (2007), Jonathan Talbot (2001)
---
Awards and Honors
2017        MN State Arts Board Artist Initiative Grant
2016        Legacy Arts & Culture Heritage Grant
2015        Surface Design Association Personal Development Grant
2014        Jerome Fiber Artist Project Grant
2014        Merit Award, Bloomington Art Center Member's Juried Exhibition
2013        2nd place, Juried Fine Art Exhibition (Fibers category), Minnesota State Fair
2007        4th place, Juried Fine Art Exhibition, (Fibers category), Minnesota State Fair
---
Publications
Chung, Jiyoung. "Joomchi & Beyond." 2011
---
Selected Exhibitions – Juried
2017
Materials Hard + Soft, Patterson/Appleton Arts Center, Greater Denton Arts Council, Denton, TX; Joann Edwards, juror
Unravel | Unearth, Inez Greenberg Gallery, Artistry, Bloomington, MN
Insula, Studio Gallery, Textile Center of MN, Minneapolis, MN
2016
Artistry Members Exhibition, Inez Greenberg Gallery, Artistry, Bloomington, MN; Teresa Engeltjes, juror
Jehra Patrick Exhibit, Main Gallery, Lake Region Arts Council, Fergus Falls, MN; Jehra Patrick, juror
North of the 45th Exhibition, DeVos Art Museum, Northern Michigan U., Marquette, MI; Michele Bosak, juror
Art on the Plains XII, Donath / Schlossman Galleries, Plains Art Museum, Fargo, ND; Aaron Spangler, juror
2015
Sylvia White National Juried Exhibition, Flow Art Space, St Paul, MN; Sylvia White, juror
2014
Jerome Fiber Artist Recipients' Exhibition, Concordia University Gallery, St Paul, MN
Bloomington Art Center Member Exhibition, Bloomington Theater Art Center, Bloomington, MN
2013
Celebrating Women Exhibition, Gorecki Gallery, St. Benedicts, St Joseph, MN
BTAC Member Show, Inez Greenberg Gallery, Bloomington Theatre and Art Center, Bloomington, MN
Minnesota State Fair Fine Arts Exhibition, St Paul, MN
Local Color, Humanities Fine Arts Gallery, U of Minnesota-Morris, Morris, MN
2012
Screenplay, Mendenhall Student Center Art Gallery, East Carolina University, Greenville, NC
Small Works, Main Gallery, Northfield Arts Guild, Northfield, MN
2011
Watershed, Textile Center & SDA member exhibition, Textile Center, Mpls, MN
2010
Hands of Korea, Heyri Artist Village, Seoul, Korea
2007
Fine Art Exhibition (juried), Minnesota State Fair, St. Paul, MN
---
Selected Exhibitions – Invitation/Open
2017
Unravelling the Thread, Main Gallery, New York Mills Cultural Center, New York Mills, MN
2016
WAI Participants Exhibition, Quarter Gallery, Regis Center for Art, University of MN, Minneapolis, MN
Natural Dye Invitational, Community Gallery, Textile Center of MN, Minneapolis, MN
A Common Thread, Textile Center Member Exhibition, Joan Mondale Gallery, Minneapolis, MN
Recollections: Shadow to Matter, White Bear Center for the Arts, Ford Family Gallery, White Bear, MN
2015
Solo Exhibition, Main Gallery, Bethlehem Lutheran Church, Minneapolis, MN
Kaleidoscope, Kaddatz Gallery, Fergus Falls, MN
Two Person Exhibition, Conn Fine Arts Gallery, Plymouth Congregational Church, Minneapolis, MN
Recollections: Shadow to Matter, 215 Gallery, Minneapolis College of Art & Design, Minneapolis, MN
2014
SD8 – Taste of 8, Gallery 1639, Falcon Heights, MN
Fiber and Mesh, Landmark Center Gallery, Henning, MN
A Common Thread, Textile Center Member Exhibition, Joan Mondale Gallery, Minneapolis, MN
2013
The Space Between (two person exhibition), Northfield Arts Guild Main Gallery, Northfield, MN
A Common Thread, Textile Center Member Exhibition, Joan Mondale Gallery, Minneapolis, MN
2012
Healing Arts Fall Exhibit (invitation – group), Allina Gallery, Owatonna Hospital, Owatonna, MN
A Common Thread, Textile Center Member Exhibition, Joan Mondale Gallery, Minneapolis, MN
2011
Regional Artist Invitational (invitation – group), Charles Beck Gallery, Fergus Falls, MN
The Art of Healing (two person exhibition), Penny George Institute for Health & Healing, Minneapolis, MN
Merge and Flow, SDA Member Exhibition, Katherine Nash Gallery, Minneapolis, MN
2009/2008
A Common Thread, Textile Center Member Exhibition, Joan Mondale Gallery, Minneapolis, MN
2006
What Is Enough (invitation – group), MacRostie Art Center, Grand Rapids, MN
---
Public Art
2015
Dis:Engage, a community art project (I initiated), Monarch Festival, Fergus Falls, MN
Recollections: An SDA Exhibition involving collections of memories (group-initiated), 215 Gallery, Minneapolis College of Art and Design, Minneapolis, MN
2014
What's Growing Here? Community Felting Event (I assisted), Prospect Park Community Garden and Textile Center, Minneapolis, MN
---
Commissions / Collections
Sanford Hospital, Fargo, ND
St Marks Cathedral, Minneapolis, MN
Urban Ventures, Minneapolis, MN
Faith-Lilac Lutheran Church, Crystal, MN
Bethlehem Lutheran Church, Minneapolis, MN
---
Art Related Community Involvement
Traveling open studio to west-central rural communities involving stitching fiber work for Sanford Hospital in Fargo
Artist residency working with HS students teaching hand-stitching, community involvement with open studio access, 2-day retreat teaching various forms of digital and traditional mark making on fiber
Community Supported Arts Project (CSA), 2016; Created 30 eco prints in support for greater awareness of the arts in rural Minnesota
Glendalough State Park, July 2015: Memory Cloth, 2 day retreat teaching solar resist and mark-making techniques on fiber
Glendalough State Park, (workshop leader) August 2014: Eco-Printing & Dyeing, 2 day retreat teaching eco-dyeing and printing to adults
Henning, MN, April 2014: 2 week residency teaching in the High School and leading a community education adult workshop
Underwood, MN, May 2014: 2 day program teaching wire mesh techniques to high school art sudents
Fergus Falls, MN, August 2013: Introduction to Markmaking on Fabric, 2 day workshop teaching dye with wax resist and stitching processes on fabric
---
Professional Affiliations
Textile Center of Minnesota
Surface Design Association
Womens' Art Registry of Minnesota
Art of the Lakes – a visual artist cooperative